Contemporary Dance Teaching
I am passionate about floor work, acrobatics, fluid movement, Improvisation and Partnering, in general I love any kind of movement that serves some sort of expression. In my teaching, be it for professionals or open level, I do want to overall transmit the idea of working from within (intention, emotion) to the outside (a certain form) as opposed to some other schools where it is thought to learn and perfect the form first. I am sure that the form follows the function.
Rather than how do I move, I want to focus on why do I move, what makes me move?
This beautiful concept I love to explore in professional classes as well as amateur classes or community classes.
"Veronika Kulscar is one of the few dancer who can teach you how to soften the floor while become yourself a soft and at the same time aligned dance creature. Embodying David Zambranos philosophy of Flying Low and Passing through she will guide you with precise and thoughtful feedback to your own unique quality of movement. Her energetic way of teaching will awake the sleeping body parts within you and let you discover the magic of the talking torso."- Bernadette Casu (student)
Professional Trainings and Workshops
Upcoming Dance Workshops and classes :

1.5.23 9.30-11.00 St Gallen Ig Tanz Ost Profitraining
3.5.23 11.15-12.45 Move On Studio Vienna www.moveon.at

Since a few years I started to share my knowledge and experience collected from so many inspiring movers and artists in the frame of professional dance training in different cities across Europe. I was lucky to teach (f.e.) in St. Gallen (CH), TQW (AT), Tanzpunkt Hannover (DE), Tanzfabrik Berlin (DE), K3 Hamburg (DE), Leipzig (DE), Freiburg (DE), Pro Dance Vienna (AT) amongst others. Further I am teaching a more educational series of classes since 2 years in the dance education Dancemotion in Vienna (Dancecenter Move On) to young aspiring dancers and movement artists. My aim is to train our dancers bodies in an everyday context but also to keep inspiring with new ideas and motivation, so we never lose the curiosity and passion for your art.
Embracing space (Floorwork & Flying Low)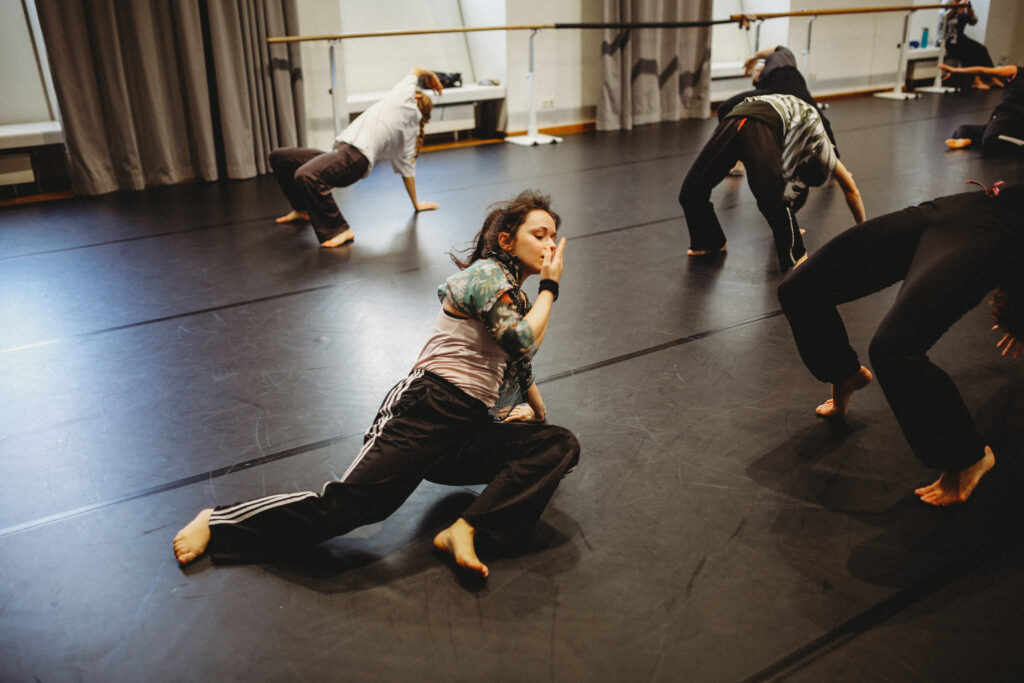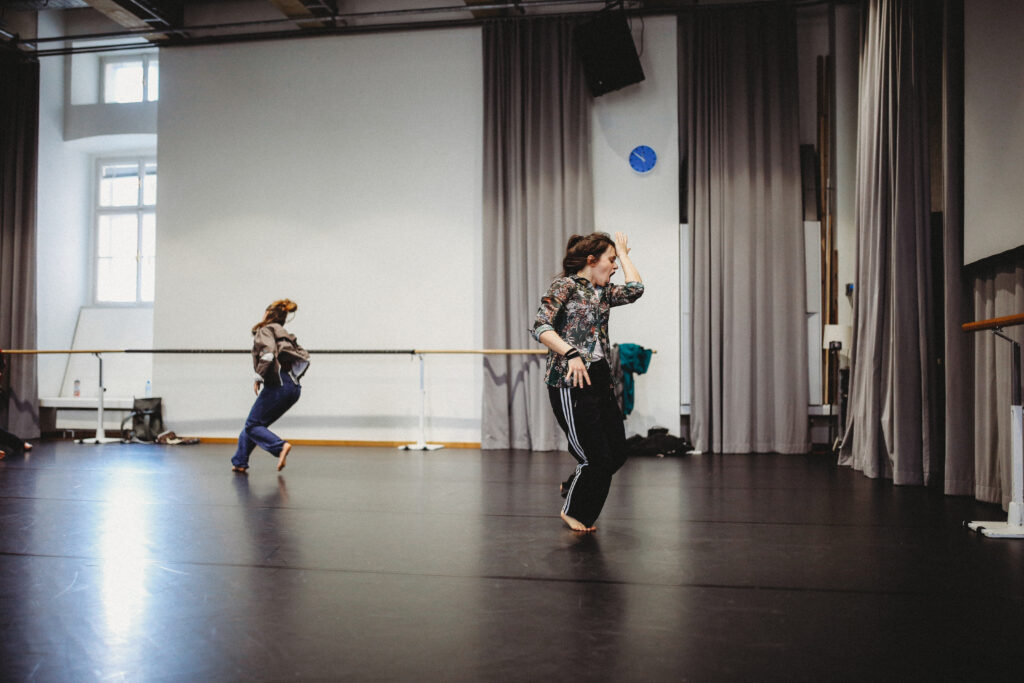 Pictures: Aline Hölldampf
I was lucky to have been part of the last group of people that trained with David Zambrano for one month every day on the beautiful island of Corfu, for this experience I am incredible grateful for. This was not the beginning of my love for Flying Low and floor work (I discovered that much earlier) but rather the point after which I was sure this is something that I want to share with the world and all kinds of movers. "Into the earth and out of the earth, gathering and sending" using those classic principals of Flying Low I added my own flavour to it and generated my own Floorwork style that I named Embracing space. It adapts a lot if info and energy from David Zambrano´s classes, as well as my own input and the experiences I gathered through other movement forms (like Yoga and Capoeira) and even through my studies of Sport Science and Art Therapy (looking at the mind and body from a more scientific viewpoint). We learn how to push the floor, play with our weight, using the body´s biodynamics in favour for our dance and also how to approach to floor in a non violent way.
The goal and passion of mine is, similar to Flying Low, to get to a level of speed that our body moves instinctively and we do not need to think with our brains too much but rather mastered a certain level so that we can give it all of our intentions and emotions.
BEYOND AESTHETICS (Improvisation and Instant Composition)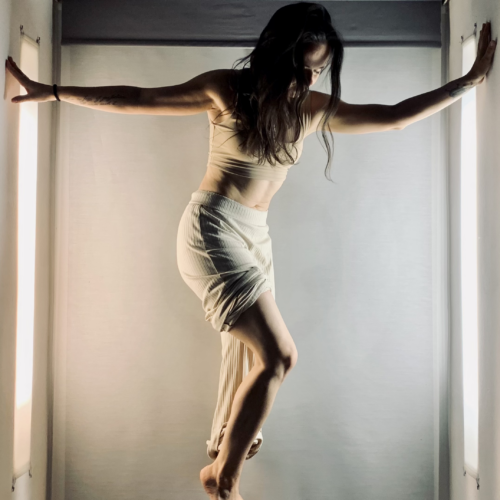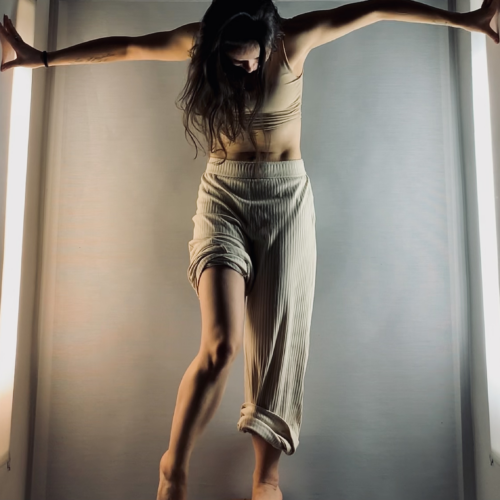 As a dancer, teacher, and choreographer, my approach to contemporary dance is focused on cultivating a deep and intimate relationship with the body through improvisation. Unlike traditional dance education, where a background in ballet is often expected, I discovered contemporary dance later in life and struggled to make progress through technical training alone. In my BSc of Sport Science studies I discovered the concept of Interoception. Interoception is a concept that I came to understand through my improvisation practice. It refers to our ability to sense and understand the movements of our body from within. By focusing on interoception, we become more aware of the sensations within our bodies, such as the feeling of our muscles contracting or the rhythm of our breathing. Through improvisation, I was able to work consciously and present with my body, developing a keen sense of interoception. By exploring what makes me move, I was able to use movement as a tool of communication, connecting with my body and building trust through embodiment. This allowed me to form a deep and intimate relationship with my body, leading to a stronger technical competence and a more meaningful exploration of movement.
Going further I did focus for a while on a lot of Improvisation classes from many different teachers, f.e. Just Sanchez Ruíz, Edivaldo Ernesto, Martin Kilvadi, Peter Jasko, Julien Hamilton (amongst others) and I noticed how I was able to form my technical competence through improvisation. My technique suddenly became so much better and stronger, because I was working from within, (what makes me move?) and I could integrate that also in given material. Getting to know how my body moves in such depth wouldn´t have been possible without all this experience I had through improvisation.
So this is also a strong focus point in my Improvisational classes. "Beyond aesthetics" because we want to go beyond the looks of a movement and discover why we move, what makes us move and use movement as a language, as a tool of communication.
By forming this deep and intimate relationship with our own body we can lear to trust out bodies, not by controlling everything with the brain, but by embodying certain movements and letting the body flow.
These principles can be applied to any movement quality, whether it's sharp and precise, watery and flowing, or soft and delicate. In my Instant Composition classes, we focus on placement, musicality, arrangement, and the choices we make, working to deliver a performance that is just right for the moment. As a dancer, teacher, and choreographer, I am passionate about sharing the transformative power of improvisation with my students and helping them cultivate a deeper connection with their bodies and the movements they create.
In Instant Composition then we focus more on the placement, musicality, arrangement and choices that we make. What does work, what does not work? How can we deliver on the spot a Composition, a performance that is just right for this moment at that time?